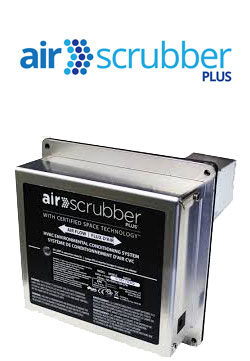 The Air Scrubber Plus® is a device which is engineered to improve the indoor air quality of an occupied space. It's designed to be installed into an existing HVAC system and intended for use as a fully integrated whole home air purification system. Forced air passes through the titanium oxide coated honeycomb chamber.
CERTIFIED SPACE TECHNOLOGY
Air Scrubber Plus® with ActivePure™ technology is the latest advancement of a scientific breakthrough originally developed in cooperation with NASA for use in the International Space Station. ActivePure™ technology is recognized as the exclusive Certified Space Technology by the Space Foundation in its category.
AIR SCRUBBER PLUS® WITH ACTIVEPURE™ TECHNOLOGY
Air Scrubber Plus® is a revolutionary new system designed to help eliminate indoor air quality risks by reducing air pollutants, VOCs (chemical odors), cigarette smoke, dust, pollen, mold, odor-causing bacteria, and odors caused by pets and cooking.
Air Scrubber Plus® with ActivePure™ technology cleans, freshens, and purifies the air using specialized germicidal UV light waves along with a proprietary catalytic process that creates enviroscrubbing molecules of oxygen and hydrogen, just like nature's outdoor scrubbers.